Two Person Camel Halloween Costume. What Day Is It? Hump Day Yea!!! The hump day camel costume will be a huge hit this year at any Halloween costume party.
The two person camel costume is a huge hit for costume parties. We will leave it up to the two of you to decide who gets to be the front, and who gets to be the rear of this costume.
You and a buddy can get dressed up in this two person camel costume for Halloween. I sure hope he (or she) is a good buddy though! This costume is available from HalloweenCostumes.com. You can also buy it on Amazon.com too.
Two Person Camel Halloween Costume
AMAZON.COM- Two Person Camel Halloween Costume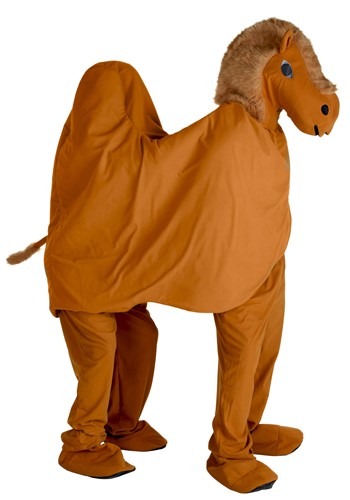 HALOOWEENCOSTUMES.COM- Two Person Camel Costume
100% polyester
tan colored canopy with opening for the head
plush camel mask w/ mesh eyes so you can see out
2 pairs of elastic waistband pants
4 pairs of matching shoe covers
More Camel Costumes for Halloween
Can't find a good enough friend to pull the backend around with you all night long? That's ok because this funny adults camel costume is also available for a single person!
Adult Camel XL
Safari Camel Dress
Cute Camel Costume
Ride On Camel Costume
Camel and Camel Related Costumes
Ride On Camel Halloween Costumes
Adults Camel Racing Costume
Ride-on Camel Costume
Two Person Horse Costumes
If you don't want to run around the party asking everyone what day is it, you can always grab one of these two person horse costumes to wear to the party!
Two Person Horse (Standard)
Two Person Horse Costume
Camel Masks for Halloween Costumes
Hump Day Camel Mask
Camel Costume Mask
Desert Camel Adult Mask
Forum Novelties Child's Plastic
Camel Cardboard Party Mask
Adult Latex Camel Mask
Child Plastic Camel Mask
Animal mask camel