Butterfly Halloween costumes for girls are a great idea for a Halloween costume this year.  They're cute and girls love the tutu skirts, wings, and other fancy stuff that goes with them.   They come in the orange and black monarch style which is perfect for Halloween, or you can get a butterfly costume in lots of other lovely colors.  It just depends on what she likes.  I've shown you some ready-to-go costumes as well as butterfly wings sold separately.  Perhaps you already have a tutu or petti skirt, maybe some leggings, and all you need are the wings to finish off a costume.  You'll find a selection of butterfly wings here to complete her costume.  Be sure to scroll to the bottom to see a good selection of shoes to go with a butterfly costume.  If your girl wants a butterfly Halloween costume this year, this is the place!
Monarch Butterfly Halloween Costume
The Monarch is the queen of butterflies and we have monarch butterfly costumes in several vibrant, jewel colors.  Chances are her favorite color is here.  These beauties are handmade by a mom who loves to make beautiful dress up clothes for kids.  Great care is taken with each one.  These are 3 or 4 piece sets with the pieces being a tutu, wings, a wand and a head piece.  Not all sets include all pieces so be sure to check that when you go to order.  You can also special order matching bloomers if you so choose.  As beautiful as these costumes are, they are quite affordable.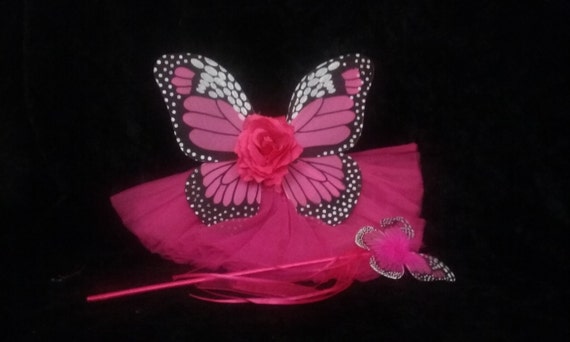 3 piece hot pink monarch butterfly wings set with an attached hot pink rose,tutu,and matching wand

Monarch Butterfly Tutu Costumes
These stunning butterfly costumes may be worn for Halloween, dress up play, dance recitals, parties, portraits, or for any occasion that would be appropriate.  They're available in a rainbow of colors and in different sizes.  When you buy one of these costumes you're supporting a small family business.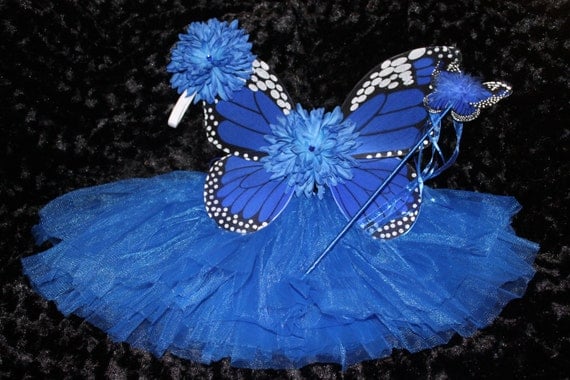 4pc Kids Blue Monarch Butterfly wings with an attached jeweled mum flower, tutu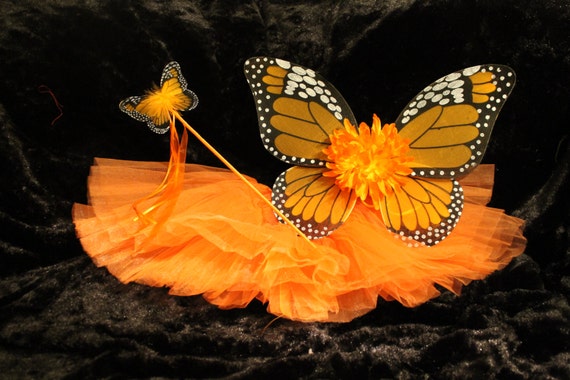 3pc Kids orange Monarch Butterfly wings,  tutu, and monarch wand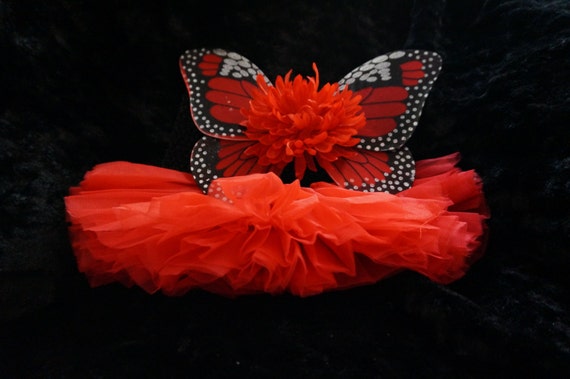 Newborn, infant, red pink monarch tutu wing set 5 layer 6.5 inches tutu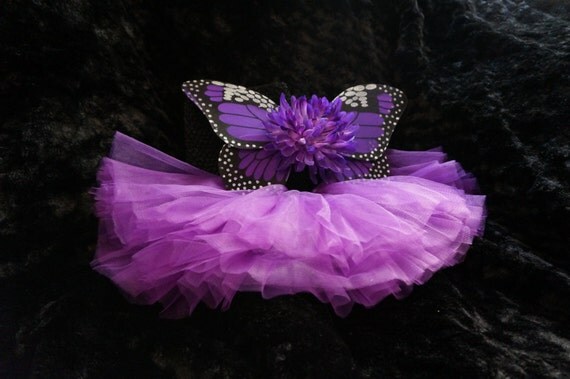 Kids purple monarch butterfly wings with an  and a light purple tutu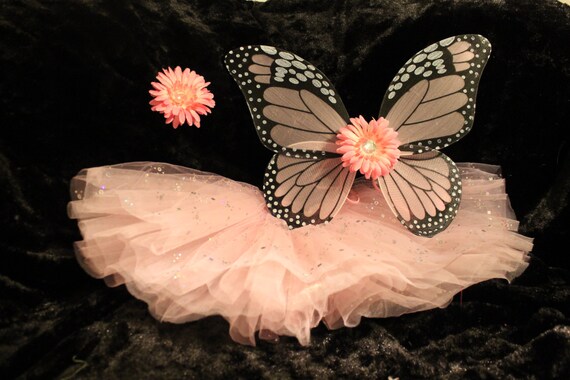 3pc Kids pink Monarch Butterfly wings w/ attached daisy, tutu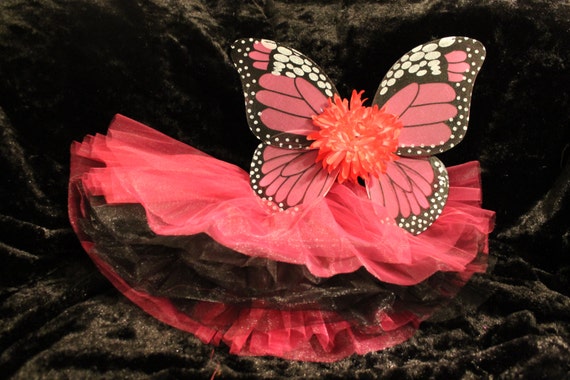 Hot pink Monarch Butterfly wings  and reversible 11″ tutu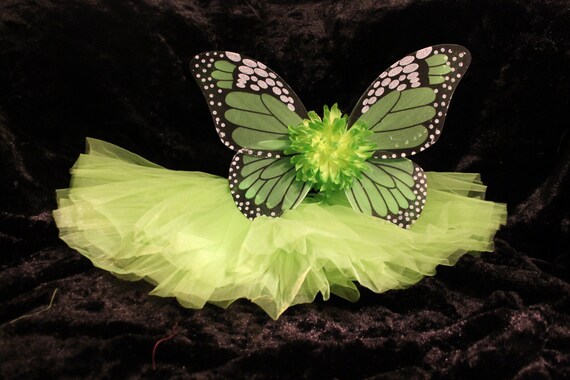 Kids Green Monarch Butterfly wings  and an 11″ tulle tutu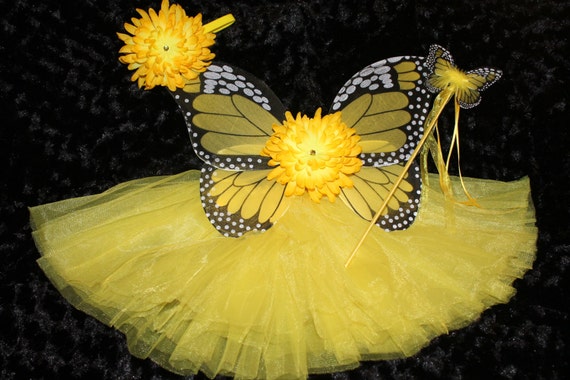 4pc Kids Yellow Monarch Butterfly wings with an attached jeweled mum flower, tutu

Butterfly Halloween Costumes for Girls
There is an abundance of butterfly costumes to choose from but I think the orange and black monarchs are so darn cute, and of course the colors are perfect for Halloween!  These costumes are from a variety of online merchants which are provided for you so you can shop around.  Also, costumes tend to become unavailable as the season progresses so you have some alternative choices here.  The best thing is to shop early so you are you are assured of your first choice in costumes.
Monarch Butterfly Toddler and Girls

Seasons – Monarch Butterfly Costume

Monarch Princess Toddler and Girls

Child's Costume, Orange Butterfly

Orange Butterfly Baby Costume

Light Up Monarch Butterfly Costume

Monarch Butterfly Costume

Toddler Butterfly Princess Costume

Butterfly Fairy Princess Costume

Buttercup Butterfly Girls Costume

Kids and Toddler Butterfly Fairy Costume

Girls Standard Mariposa Butterfly Barbie Costume

Tween Butterfly Costume

Butterfly Kisses Infant Costume
This sweet little butterfly costume from Trendy Halloween includes a dress, matching wings and a headband. It's one of the cutest butterfly Halloween costume for girls that I've seen! Such a sweet little monarch! Wouldn't your baby look adorable in this butterfly kisses costume?
Butterfly Kisses Infant Costume

Butterfly Halloween Costumes for Girls
What adorable butterfly Halloween costumes for girls!  These are from Costumes4Less and will make Halloween fun!  Great little butterflies in orange, lavender, pink, and yellow.  Oops!  There's a couple more little monarchs!   Don't forget to grab your camera when she dresses up in her butterfly costume!  Grandma will definitely want a photo!
Child's Butterfly Wings

Butterfly Princess Costume

Infant Butterfly Costume

Monarch Butterfly Costume

Fairy Butterfly Child

Butterfly Princess Costume

Ballerina Butterfly Child Costume

Fluttery Butterfly Child Costume

Wings for Halloween Butterflies
Here are several beautiful wings to choose from if your daughter wants to go out as a butterfly on Halloween.  There are lots of possibilities for putting together your own costume with the selection of wings here. They come in many different colors.  If your daughter has a cute tutu, petti skirt or dress you may only need some wings to put together her costume.
Butterfly Halloween costume for girls
Butterfly Wing /
Black Butterfly Wings
Monarch Wings
Blue Morpho Butterfly
Orange Butterfly Wings
Blue & Green Butterfly Set
Fanciful Blue Butterfly Wings
Rainbow Butterfly Wings
Red Monarch Butterfly
Multi colored Butterfly Set
Double Layered Multi Colored wings
Purple Layered Butterfly
Purple Butterfly Wings,
Shoes and Slippers to go with Butterfly Costumes
Most Halloween costumes don't come with shoes, so here are some ideas for shoes or slippers to go with a butterfly costume.  Ballet slippers work well as do ballet flats.  Black is a good choice or you can get fancy and get some fun glittery ones.  Hope you enjoyed browsing these butterfly Halloween costumes for girls, and that you found what you were looking for.
Comfortable Canvas Slippers
Bloch Dance Ballet Slippers
Capezio Ballet Slipopers
Danshuz Little Girls Slippers
Girls Ballet Flat
Chatties Girls Slippers
Disney Store Frozen Flats
Child's Green Glitter
Pink Glittery Ballet Flats
Girl's Costume Shoes:
More Halloween Costume Ideas and Accessories